Villa Saint Simon is a charming & breakfast, offering beautifully restored period rooms as well as self catering apartments, located in historic Blaye, Bordeaux. And, I must add, Mary and Robert's favorite place to stay while exploring Bordeaux.
Villa Saint Simon in located in the heart of Bordeaux's winelands on the right bank of the Gironde River. May we suggest that you spend at least two days or more in order to experience the scope of things and places to visit in the area such as: St. Emilion and the Medoc with its world famous chateaux. Your hosts Les Kellen and Clarissa Schafer will arrange special tastings, field trips to the wineries, art and antique markets, fairs, festivals and other features of the area. Plan to visit the fabulous Blaye outdoor market at the foot of the Citadel, just steps from Villa Saint Simon.
Villa Saint Simon is the ideal destination for those wanting a relaxing holiday while, at the same time, improving their wine knowledge and enjoying the local history and culture.
Within minutes, you can be in the middle of the vineyards of Blaye, Cotes de Bordeaux and Cotes de Bourg tasting the wines of such notable producers as Chateau Cantinot and Chateau Gros Moulin... and many others.
I endorse and recommend Villa Saint Simon as the "Best of Bordeaux" lodging and experiences. Please do not hesitate to use my name when reserving your special holiday in Blissful Blaye.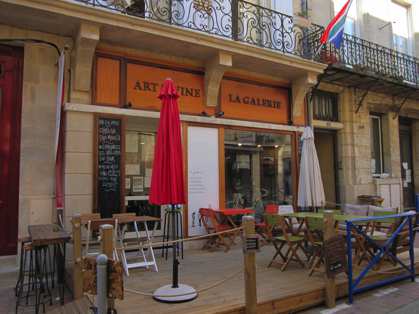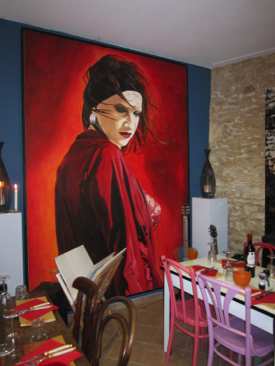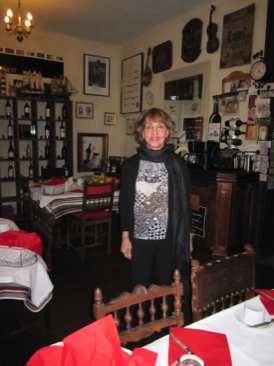 You will find the food at La Galerie to be delicious, the service a little wacky. But, that's what makes it stand out... gracious people serving people who love good food and wine. It's like dining with friends.
La Galerie - Gallery, Wine Bar, Tapas & Restaurant. Exterior view.
Breakfast and "hang-out" Room at Villa Saint Simon. Mary and I love those raisin rolls and hot coffee on a bright Blaye morning.
Interior view of La Galerie with a portrait of Clarissa
La Galerie raises produce for the restaurant and maintains chickens for their eggs.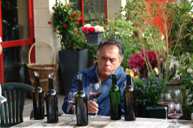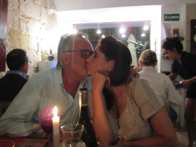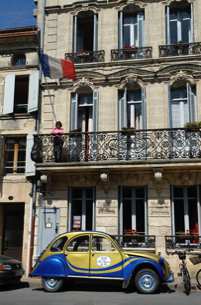 Les & Clarissa get friendly Villa Saint Simon exterior view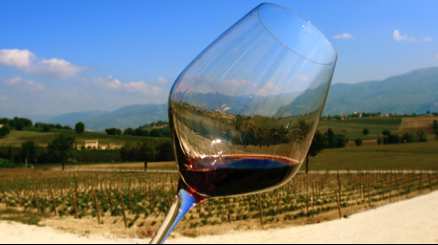 WineLine Radio Special Report
LISTEN as Wine Pro Les Kellen, from the Villa Saint Simon in Bordeaux, debunks the myths of wine tasting.
I recorded Les Kellen giving an informal tasting at the art gallery/wine bar/ restaurant LA GALERIE. You will enjoy it and, maybe, learn a little. Just click on the start arrow, below to listen:
Les Kellen tasting a fine Bordeaux
Les at Chateau Caninot in Blaye